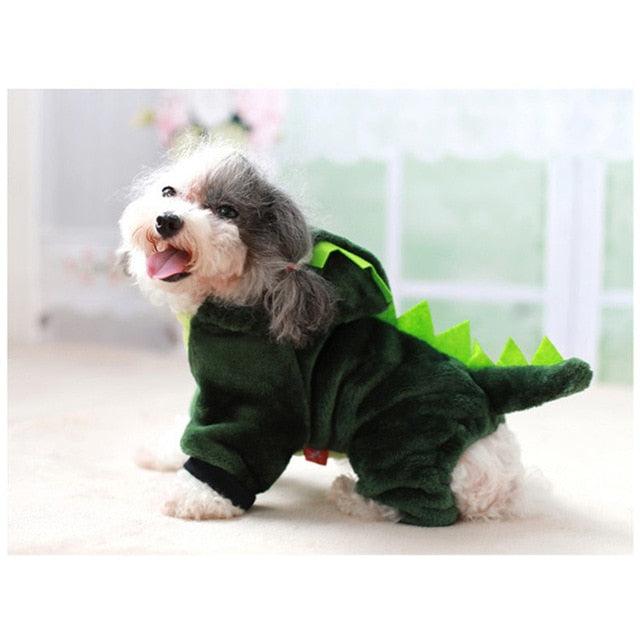 Cute Green Dragon Cartoon Character Plush Costume Pajama Coat for Dogs - Assorted Characters in 5 Sizes
---
Saturday Morning Favorite Cartoon & Movie Characters come to Life as Adorable Fleece Pajama Coat Costumes for Pets. 
 Perfect for Costume & Halloween Parties - Great for Use as a Pajama or Coat.
Choose from a variety of Character Themes - Each Costume Pajama Coat is expertly crafted and made of thick warm fleece - functional as a Costume or Use it as A Pajama or Coat for Cold Climates -  Adorable and sure to please anyway your Pet wears it.  Get one in all of your favorite characters for guaranteed fun all year round.  
Plush Warm Fleece styled in cartoon charcater theme

Comes with pet accessory themed clip on charm

Available in these Cartoon Characters:  Pikachu, Green Dragon, B/W Cow, Pink Piggy, Tiger, Reindeer, Brown Bear, Caterpillar, Cute Squirrel (Totoro)

Sizes: XS, S, M, L, XL, 2XL
Size Chart
 Above sizes are of garment,please allow room for pet.
Stock & Shipping Availablilty:
·        Instock & Ready to Ship for Halloween (Moo Cow,  Pikachu, Pink Piggy, & Green Dragon )
·        Other Select items may require special order and Ships within 8-12 days or sooner upon order  placement. All items Ships Worldwide. Contact us for stock availability concerns.
---
More from this collection